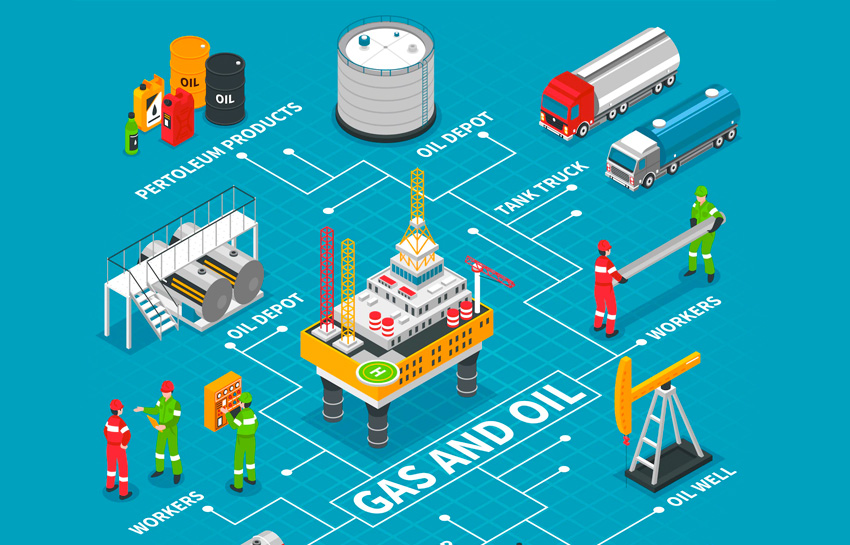 Real-Time Monitoring Reduces Oil and Gas Safety Hazards
With the rise of digitization, organizations in the oil and gas industry are reaping benefits, including greater productivity, higher operational efficiency, cost savings, and workplace safety improvements. Digital tools and technologies offer excellent solutions for reducing oil and gas safety hazards, especially with real-time monitoring of operational processes, workflows, and environmental conditions.
Improving workplace safety is crucial because of the high number of occupational injuries and fatalities occurring every year in the oil and gas (O&G) industry. According to the U.S. Bureau of Labor Statistics (BLS), fatalities among oil and gas workers occur most often due to safety risks and health hazards, such as:
Chemical exposure
Confined spaces
Explosions and fires
Falls
Struck by/caught in/caught between accidents
Vehicle accidents
Read on to learn more about the importance of monitoring hazardous conditions and explore digital technologies that offer real-time monitoring for improving operational efficiency, including reducing oil and gas safety hazards and health risks to the O&G workforce.
Occupational Injuries and Fatalities Within O&G
The most recent data published by the BLS records 44 occupational fatalities in the oil and gas extraction industry in 2020 and approximately 600 nonfatal work injuries.
In 2022, according to recent BLS statistics, there are currently about 139,400 workers employed in O&G extraction. The focus of work is on the production of crude petroleum, mining and extracting oil from oil shale and/or oil sands, natural gas production, sulfur recovery from natural gas, and the recovery of hydrocarbon liquids.
Although working in an oil field can be a lucrative profession, it is also extremely dangerous. The U.S. Occupational Safety and Health Administration (OSHA) strives to improve conditions and protect O&G personnel by setting oil and gas safety standards, but drilling and extraction activities are inherently dangerous. O&G injuries and fatalities usually occur because of health risks and safety hazards, including:
Real-Time Monitoring Reduces Oil and Gas Safety Hazards
Without digital technologies, the usual methods of monitoring hazardous conditions and fulfilling OSHA compliance are tedious and time-consuming, with personnel making manual entries in maintenance logs and conducting physical site inspections. Mobile devices, such as smartphones and tablets may seem to offer a convenient solution, but they are not legal for use in work environments like O&G facilities with potentially combustible atmospheres. Only certified intrinsically safe electronic devices are purpose-built to be spark-free, guaranteeing their use will not cause a potentially catastrophic explosion.
With certified intrinsically safe digital tools and technologies, monitoring hazardous conditions and fulfilling OSHA compliance are significantly easier tasks. Empowered by wireless, cloud-based, and internet of things (IoT) connectivity, the digitally enabled workforce is obtaining greater efficiency, reducing health and safety risks, and improving all aspects of O&G productivity.
Aegex Technologies for Monitoring Hazardous Conditions
Boosting organizational efficiency starts with identifying and monitoring dangerous conditions. If your organization wants to reduce oil, gas safety risks, and optimize operational efficiency, Aegex Technologies offers state-of-the-art digital solutions for the O&G industry. Enterprise-class Aegex digitization tools are globally certified for use in potentially combustible environments, such as ATEX/IECEx Zone 1 and Class I, II, III Division 1.
Wirelessly monitoring hazardous conditions and other customizable variables, our leading-edge intrinsically safe IoT-connected NexVu sensors transmit real-time data to our intrinsically safe aegex10 tablets. Equipped with an entire ecosystem of industry-specific applications and software solutions, the Windows-based aegex10 tablet offers familiar and convenient communication and exceptional computing functionality in even the most volatile locations.
For more information about boosting operational efficiency and reducing oil and gas safety hazards with IoT-based real-time monitoring for risk identification, AI-powered risk assessment, and data-driven decision-making, please contact us here.