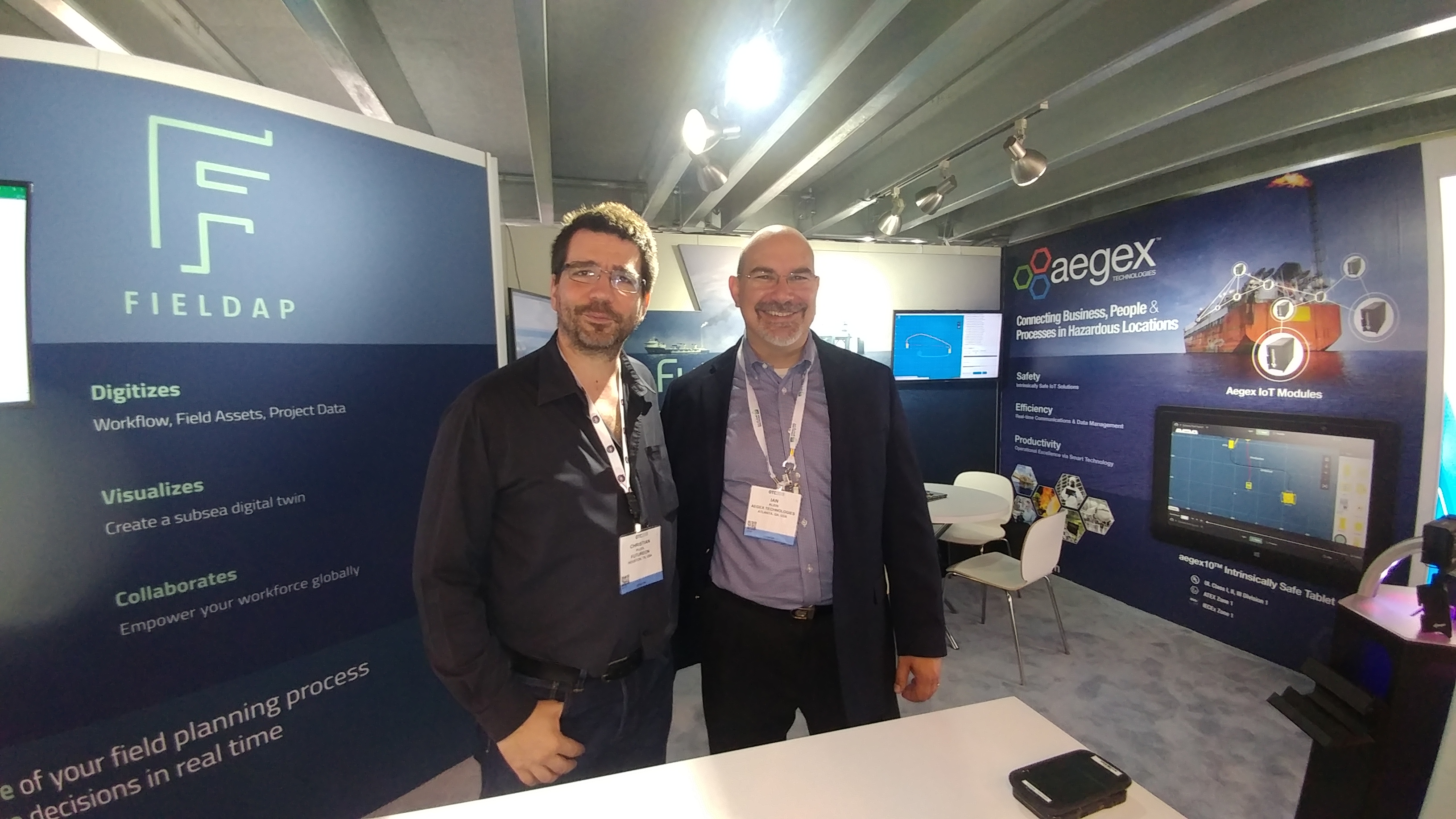 Key Takeaways from Aegex's Exhibition at OTC 2018
Aegex Technologies demonstrated its IoT Solution for the offshore and maritime industries during the 2018 (OTC), April 30 – May 3, 2018 at NRG Park in Houston, Texas. We exhibited in with Norway's FutureOn, developer of the online collaboration solution, FieldAP. The demonstration with FutureOn showed how Aegex's IoT sensor data can be combined with Aegex tablets' digital form data and fed into FutureOn's cloud services, for real-time logistics and operational awareness in maritime operations, including ship loading and unloading. Read more here.

Some key takeaways from the show included:
Promote IS Sensors as Next Step to Full IoT: Visitors to the Aegex booth were most interested in our IoT Solution that includes Aegex IoT Sensor Modules collecting real-time data and making it available in hazardous areas via aegex10Ô Intrinsically Safe Tablets. The tablets are Aegex's flagship offering and are deployed by offshore companies around the world to help personnel in Class 1 Division 1 or Zone 1 areas to communicate and manage data better. But when combined with intrinsically safe IoT sensor modules that can gather myriad data from offshore or maritime operations, this complete IoT solution helps to optimize those operations with a full picture of conditions, potential issues and potential solutions that only real-time, pervasive data can provide. Aegex will continue to promote our tablet as part of a larger IoT Solution that is the preferred means to achieving operational excellence in offshore.


Enhance Complementary Partnerships: Collaborating with FutureOn reinforced for Aegex the power of partnering with smart software developers whose applications work with our tablets and sensors to provide full solutions for our customers. Demoing FutureOn's FieldAP on Aegex tablets showed how offshore personnel could bring software solutions directly into potentially explosive environments for onsite use. And data from Aegex IoT sensors and tablets analyzed and distributed via FutureOn's cloud could measure where improvements are needed in offshore ship loading, transit and offloading to minimize leakage. Together, Aegex and FutureOn can provide a robust solution that helps optimize maritime operations even better than the individual solutions could do alone.
  Be sure to tune in to our Aegex Webinar, Tuesday, May 22, 11:00 EDT, hosted by FutureOn's Darrell Knight, to learn about how FutureOn's applications and cloud services combined with Aegex IoT solutions can enhance maritime and offshore operations.
Work Harder and Faster to Help Spread IoT: OTC 2018 showed Aegex that we still have much work to do to get our IoT Solution into the hands of all of our interested customers. Many inquired about obtaining an Aegex IoT Solution Developers Kit so they can start their own trials. Customers want to test which conditions are best to monitor with Aegex IoT Sensor Modules and how they can connect those sensors with their legacy equipment. Aegex can continue to work with customers to understand their particular use cases and provide customized solutions. As such, Aegex can customize our Developers Kits according to companies' particular needs. Contact Aegex to reserve a Dev Kit.


Develop Current Customers into Future Solution Buyers: OTC 2018 was a great opportunity for partner development and current customer engagement. Many partners stopped by our Aegex booth to connect with our team and see our latest IoT Solution. The show drew excellent companies in our target areas, especially oil & gas / offshore, but many we encountered were more focused on selling than buying. Aegex will work to educate our current tablet customers about our full IoT Solution and shore up leads to convert during OTC 2019.
See you next year!