Aegex Technologies Launches HazLoc Mobile Solutions Package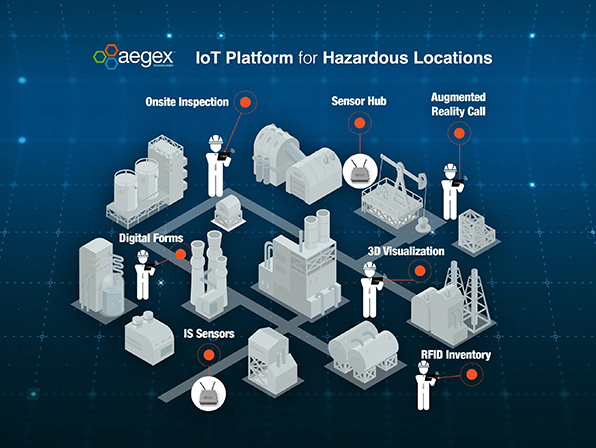 ---
Next >>
---
Aegex Technologies, LLC has assembled the first suite of applications that are customizable mobile solutions for the hazardous location industrial market.Combining information security, auditing, compliance, data collection, monitoring and reporting technologies, the Aegex Solutions package offers reliable security and management solutions for enterprises operating in the world's most volatile environments in the oil and gas, petrochemical, public safety and utilities industries."Aegex has identified several key applications that will quickly allow our customers that operate hazardous locations to leverage our unique technology and knowledge to build organizational value," said Aegex CEO Thomas Ventulett, noting that his team developed the solutions to fill a void in the HazLoc market for such applications.The Aegex Solutions package includes:
Man-Down/Emergency Alert Embedded Application - enables a mobile device to issue an immediate request for help, including location, to members of an organization
Personnel/Fleet Management and Work Process Flow Application - features the ability to record location and deploy various data-capture tools, plus define job sites and send work orders automatically from the application to remote workers' mobile devices
Mobile Device Management Application - allows for remote management of devices for service, repair and security. Built for Windows Embedded platforms, yet device agnostic to support larger organizational needs
Maintenance and Corrosion Monitoring Application - uses an Intrinsically Safe camera to capture images and provide a time-lapse review of maintenance and corrosion status, along with overlay data including weather and climate conditions, to help manage assets more intelligently
Ventulett cited the Fourth Oil and Gas Digital and Technology Trends Survey by Accenture and Microsoft, which showed existing workflows, processes and security threats are the biggest barriers to realizing value from digital technologies in upstream. The same study found that using ruggedized devices to trace people and assets is seen as today's most important mobile technology."Aegex" is a word based on the mythical Aegis shield that protected gods and mortals in battle, and "Ex" is the international symbol for Intrinsically Safe. Aegex Solutions are built around the concept of protecting customers in hazardous duty, providing software that helps enterprises in hazardous locations to better and more safely manage their people and assets.