Aegex Technologies' 'Intrinsically Safe Tablet' Is Ready for Export (and Will Not Explode)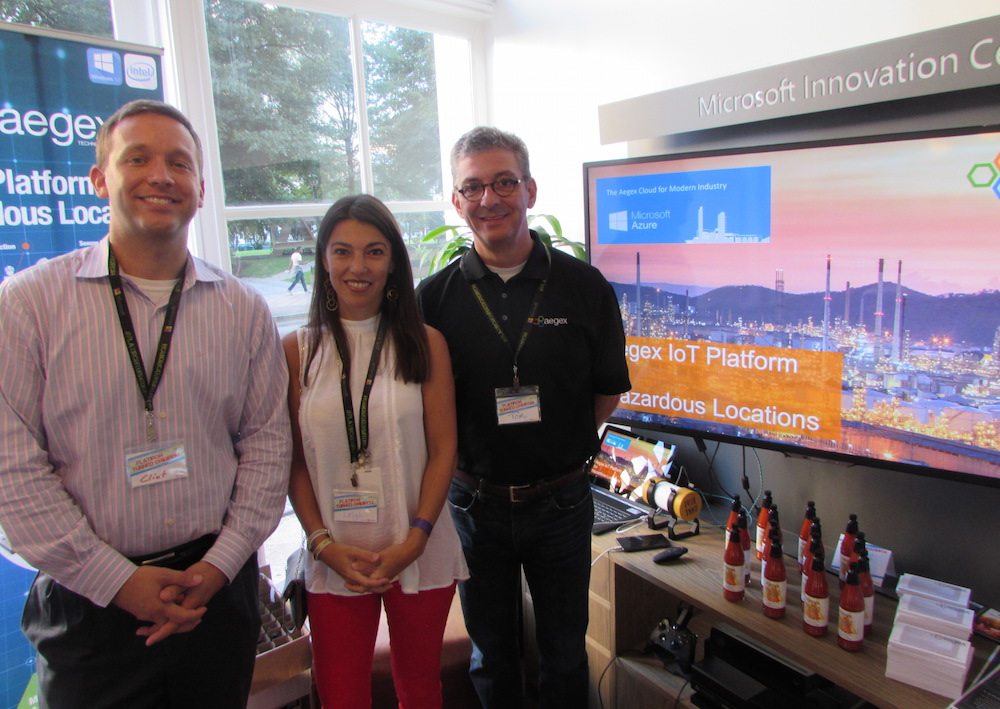 ---
<< Previous
Next >>
---
Clint Brewer
, a commercial officer with the
U.S. Export Assistance Center in Atlanta
who is working with
Atlanta
-based
Aegex Technologies LLC
to promote its sales overseas, calls the company's Windows 10 enterprise tablet "the intrinsically safe tablet" because it will not produce a spark that could ignite an explosion in industrial operations.
He told Global Atlanta that it is an ideal product to export for a variety of reasons. "They already had overseas offices and were committed to exporting," he said, adding that Aegex has resellers in multiple countries and the agency appreciates such preparatoins as precursors of successful international sales.
The

Aegex10 IS Tablet

also is unique, he said, being the first Windows 10 tablet that is globally certified intrinsically safe, thereby avoiding having to push its way into crowded markets. Many tablets are "rugged," or built to withstand drops, high temperatures, water ingress and other hazards. But the Aegex tablet can also be used by a wide variety of industry sectors in facilities with potentially explosive atmospheres where high concentrations of flammable gases, vapors or dusts are likely to occur.
"It's not stacked into a vertical," Mr. Brewer added. The Aegex tablet, which is manufactured inHungary, provides new capabilities to areas where, until now, electronic devices have been forbidden due to the possibility that they might ignite an explosion.
Mr. Brewer also cited his agency's "international blueprint tool" developed by George Tracy, director of the USEAC Atlanta office, that provides a host of potential contacts and partners worldwide in addition to applicable market research.
The agency currently is arranging appointments for Aegex representatives at ADIPEC, the Abu Dhabi International Petroleum Exhibition and Conference taking place in theUnited Arab Emirates Nov. 7-10.
From the beginning, Thomas C. Ventulett, Aegex Technologies' CEO, had a global perspective and took his idea for the Aegex tablet to Hungarian engineers who developed the patents-pending methods for making the Windows 10 tablet intrinsically safe.
He told Global Atlanta that both domestic and international considerations have played a role in the company's early global focus.
"For us, key factors centered around our customers and the skill set of the people we needed," he said. "Essentially we figured that we could do business anywhere since every country has some form of presence in oil and gas, chemical, pharmaceutical, defense and other sectors where hazardous locations exist."
Both Hungary and the Netherlands became important locations for the company. Rotterdam in the Netherlands is "Europe's Houston," he said, with a concentration of the oil and gas industry and a huge port, and Hungary had the engineers who could develop the Aegex tablet.
He even called Hungary "an obvious choice." "There has been a long history of advanced electronics contract manufacturing there, and as a member of the European Union, trade with key customers makes this an ideal location for production."
The United Kingdom also provides a base for the company's chief operations officer to travel through Europe in search of new partners and clients.
During a reception Sept. 28 at Atlanta's FlatironCity building downtown for the many attendees attending the Microsoft Ignite annual developer conference, Mr. Ventulett announced his company's launch of the "Aegex IoT Platform for Hazardous Locations."
Since his company deals with huge industries that have barred non-certified computers from the field, he said that he was pleased to present his product to Microsoft developers who might also be inspired to create apps for this hazardous industries space where there hasn't been a lot of development, despite his perceived need for such applications.
His customers also are apt to have Microsoft-based platforms for their information technology systems, so the developers in town for the conference were likely to pay attention.
He strongly believes, he said, that "by connecting not only the people with tablets, but essentially connecting everything including machines, people, processes and data via intelligent, secure and safe sensors connected to the cloud," the facilities would run not only more efficiently but safely as well.
"Modern machine learning and analytics enable us to identify trends or anomalies that would otherwise go undetected in normal operations," he
added." Monitoring 'things,' from wind direction, to humidity to the presence of a hazardous gas or even a person's heart rate in a plant, can generate data that, when analyzed, can reveal potential ways to improve processes, productivity and, ultimately, safety.
"Slight changes in a value detected by a vibration sensor that occurs with a slight rise in a temperature sensor or gas sensor, for example, could alert operations managers of a future problem. Avoiding shutdowns for maintenance and repair, fine-tuning operations for greater efficiency, or possibly heading off a potential crisis all can be gained by connecting 'things' to the internet. This is true for operations all over the world."
But even with this global perspective, Mr. Ventulett is comfortable retaining his headquarters in the Flatiron building's Microsoft Innovation Center in downtown Atlanta.
"…the image of being in the oldest high-rise that is now a tech center fits with the reality that Aegex is bringing very old industries into the 21
st
century," he said. Since the company is working closely with Microsoft, being co-located with the innovation center is a plus, he added.
And, he said, "I prefer the location because it is one of the only places in Atlanta where I can walk outdoors and choose among dozens of restaurants and not have to get in my car."
Ms. Villegas may be reached by email at
[email protected]