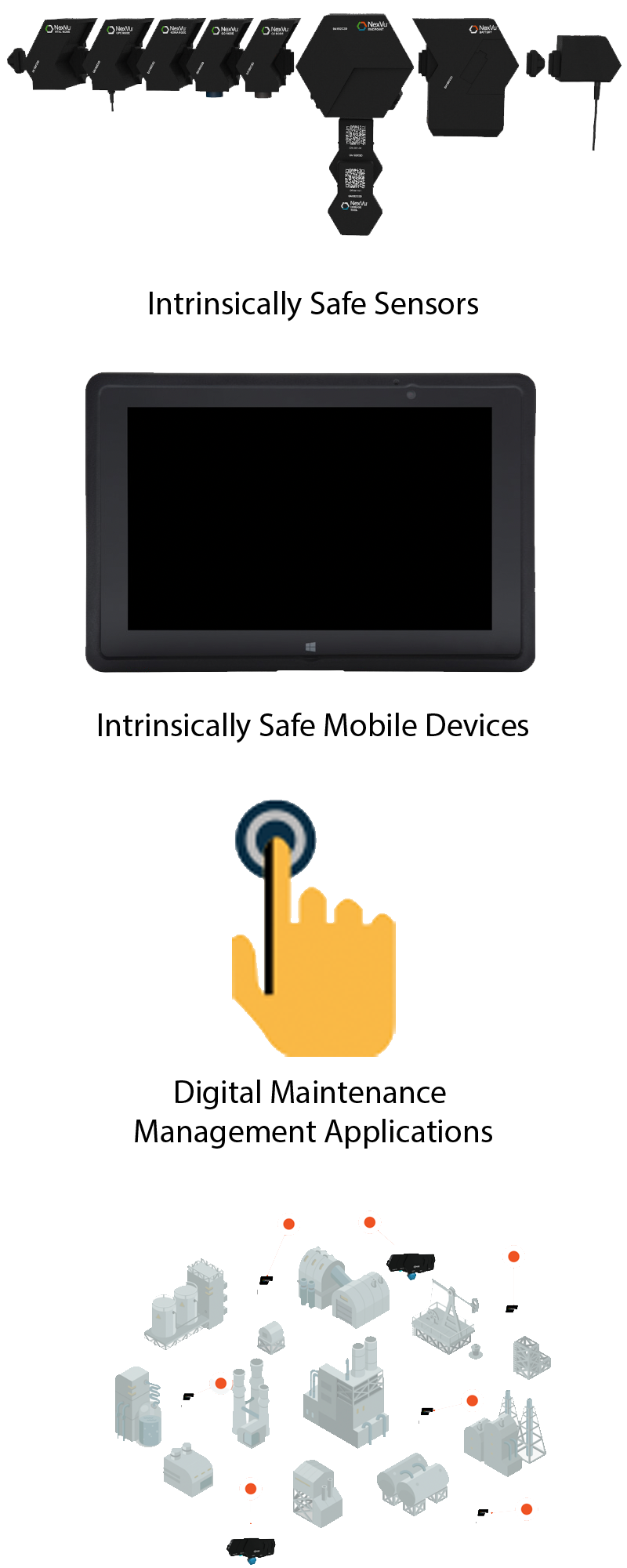 The Solution
Intrinsically Safe Sensors: the NexVu IoT Solution
Gathering as much actionable data as possible about various assets involved in the refining process is the first step to identifying potential problems and preventing them through predictive maintenance. The NexVu IoT Solution from Aegex Technologies allows technicians to easily customize intrinsically safe IoT sensors and place them in Class I Div 1 hazardous areas to collect a myriad of actionable data points about the surrounding conditions. The NexVu sensor modules are customizable for thousands of configurations and a variety of data analytics, and require only a few battery-powered and LTE-enabled components.Up to 40 nodes including sensors that detect vibration, temperature, pressure volatile gases and others can be attached to each NexVu endpoint to ensure a complete conditional assessment. The "smart" sensors do not need prior programming – they are automatically recognized in the Cloud with pre-established hazard thresholds – so they are continually learning which data anomalies to report based on the selected combined data configurations. For example, a turbine that reports higher than normal pressure combined with an excessive CO2 concentration could trigger a specific alert for urgent maintenance, while a gear with abnormal vibration patterns but no excess heat may trigger a less urgent maintenance request.NexVu sensors can be programmed to report only the data necessary for asset performance management so maintenance needs may be addressed only in the event of an anomaly, or ahead of an anomaly, based on the sensors' learnings about what are normal and optimal operating conditions.
Intrinsically Safe Mobile Devices & Maintenance Management Applications
The aegex10 Intrinsically Safe Tablet is an enterprise-grade, connected collaboration device for managing data and conducting communications in order to predict, prevent or prescribe maintenance.Data from NexVu IoT Sensors can be safely viewed in potentially combustible environments on aegex10 Intrinsically Safe Tablets. These tablets are certified for the most explosive of environments - Class I, II, III Division 1 or ATEX/IECEx Zone 1 hazardous areas - so they will not cause an explosion in volatile situations where gases, dust or other combustible materials are present. The tablets are also ruggedized to IP65 standards to withstand extreme temperatures, drops/impacts, and water or particle ingress. Their Windows 10 OS allows for user-friendly operation and immediate, secure synchronization with most IT systems for easy data management. The tablets connect to the Cloud via LTE or WiFi or can interact offline via Bluetooth and NFC communications.For the refinery in which Class I Division 1 certified equipment is required, technicians can carry the lightweight aegex10 tablets by hand or in hands-free carrying cases without fear of igniting the volatile atmosphere. The tablets enable teams to communicate in real-time for up to 12 hours on a single charge, and they can be operated with or without a stylus and/or gloves in the extreme environment, where high temperatures, water, gases, and other hazards are present. The Aegex tablets ensure all personnel are connected and able to securely communicate.