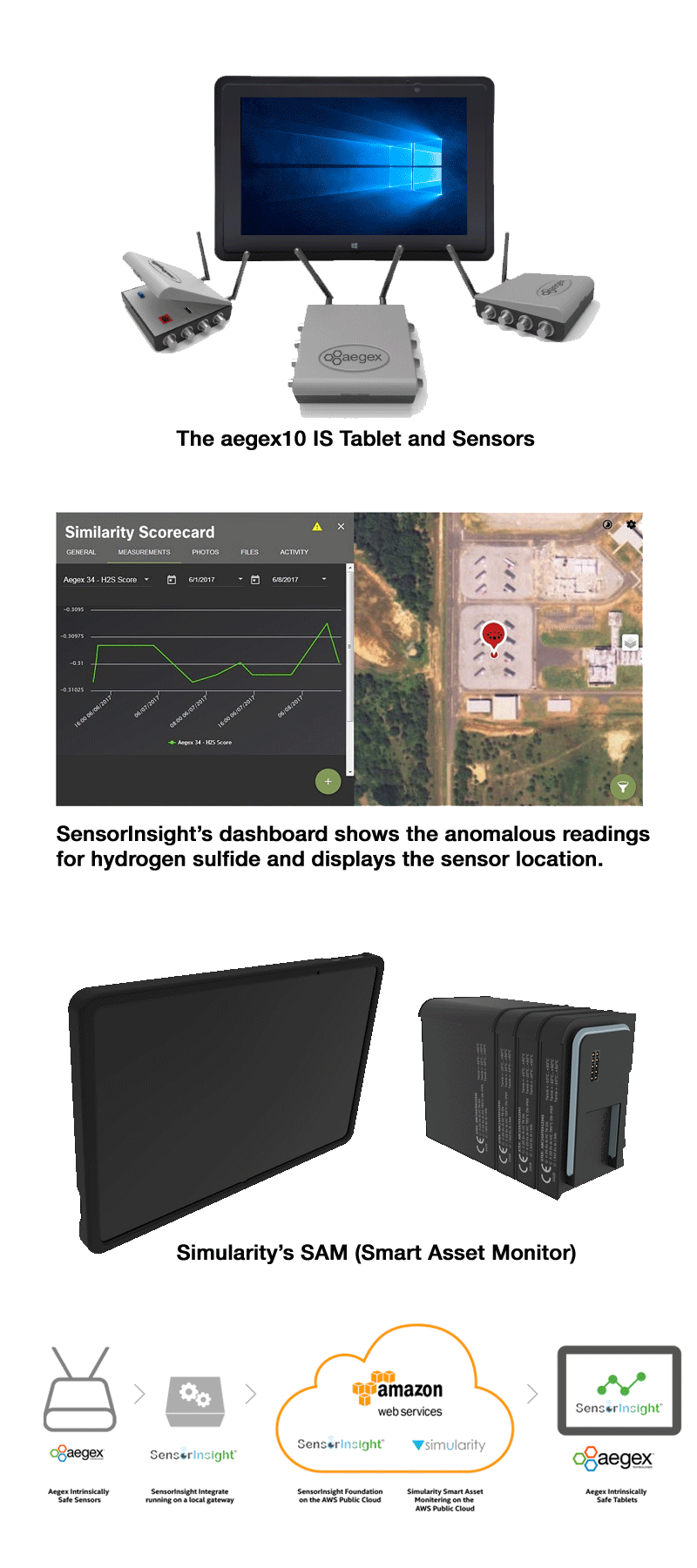 The Solution
Testing the Solution
For the chemical plant scenario at OCR2017, real-time anomaly alerts about the leak could have been noticed by building management when it first happened, before deadly amounts of the chemicals built up and led to the collapse of the building. However, in this exercise, we also demonstrated the use of this complete end-to-end hazardous area solution for managing disasters that were not prevented. In this case, a hydrogen sulfide leak was detected. When this happens, the space should be ventilated. If the gas cannot be removed, first responders need to use appropriate respiratory protection and any other necessary personal protective equipment (PPE), rescue equipment and communication equipment. Atmospheres containing high concentrations (greater than 100 ppm) are considered immediately dangerous to life and health (IDLH), and a self-contained breathing apparatus (SCBA) is required. In such a case, with dangerous flammable gases, only intrinsically safe electronics, which are incapable of producing enough heat or energy to cause a spark, should be used. As the disaster unfolded, first responders were able to monitor the levels of chemical hazard using the Aegex tablets. This helped them properly prepare for and locate the source of the toxic leak.
Deployment in Days
The nature of this mock emergency demonstration meant that end-to-end deployment needed to be completed within a few days. Several days before OCR started, the SensorInsight team installed a variety of Aegex sensors in the "chemical factory". The streaming data was integrated with Simularity's SAM (Smart Asset Monitor), and the SAM built anomaly models for all sensors based on one day's worth of data. The anomaly models were deployed and integrated with SensorInsight's Foundation dashboard in less than 24 hours. When OCR started, the entire monitoring system, complete with a handful of predictive anomaly detectors, was live and ready to go.
Solution Components
Aegex Intrinsically Safe Sensors
Specially designed hazardous area sensors by Aegex Technologies provided data that detected the leak. Aegex sensors are certified intrinsically safe, meaning they will not cause a spark that could ignite combustible atmospheres.
Aegex Intrinsically Safe Tablets
Aegex10 Intrinsically Safe Tablets were used by personnel onsite near the hazardous area to provide the ability to receive and view predictive user notifications.The Aegex10 was used to:• Record video of the scenario• Use Exchange/Outlook to email photos• Upload information to SensorInsight Foundation• Check maintenance recordsBringing people with decision-making and problem-solving skills into hazardous areas remotely or on-site
SensorInsight® Foundation
SensorInsight® Foundation is a SaaS built for any time, anywhere connectivity and is the core application service of the platform providing three base services: a big data store, analytics services, and visualization. The SensorInsight Foundation product suite elevates businesses by integrating disparate data, analyzing info in real time and visualizing insights to improve decision making and process optimization.
SensorInsight® Integrate
SensorInsight® Integrate is a big-data collection engine designed from the ground up to connect, monitor, and transform if necessary to ensure you see your whole environment. Real-time data on each of your assets or external systems can be pumped into the platform allowing you to gather large volumes of cross-domain data in
Simularity's Smart Asset Monitoring (SAM)
Simularity has developed innovative software that can analyze large volumes of time-series data in real time at the edges of the network. By capturing real-time data from multiple sources, artificial intelligence software can 'learn' what's normal and predict incidents before they happen.Simularity's AI, running in the AWS public cloud, analyzed the data for each sensor and used predictive anomaly detection to determine when chemical levels were out of the normal range.