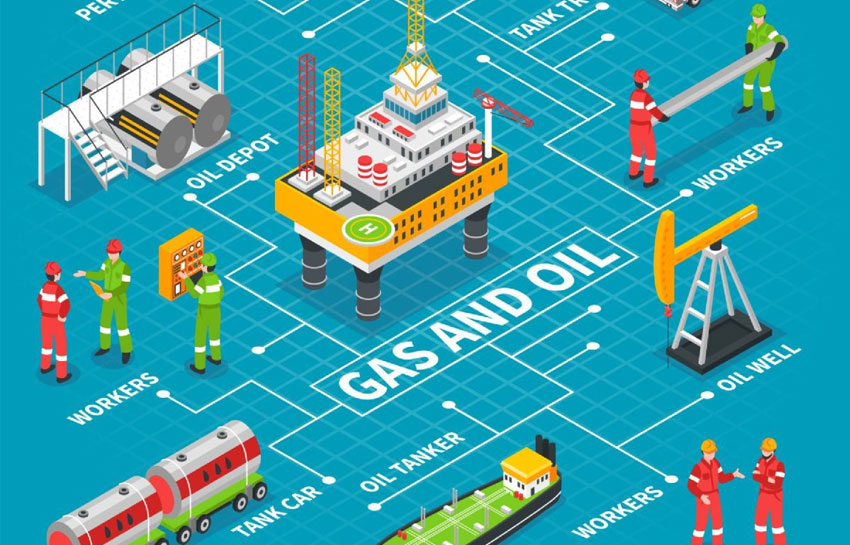 Oil and Gas Technology to Know
Undoubtedly, the oil and gas industry has experienced turbulent times in the past two years. External pressures from COVID-19, stringent greenhouse gas regulations, and rising competition from the renewable energy sector have impacted operational productivity and profitability. The industry is now accelerating the adoption of digital transformation to resolve these challenges and update operating practices. The following are five oil and gas industry technology facts to know.
Use of AI and Data Science
The oil and gas industry is turning to big data and artificial intelligence (AI) technology to gain insights for improved managerial and operational efficiency and to reduce frequent disruptions across the entire supply chain. These powerful analytics platforms combine with cloud software to deliver massive infrastructure cost savings. The specific uses of AI and big data in the oil and gas industry include:
Drilling: Advanced analytics are now an integral part of the drilling process. Big data and AI help analyze seismic data to provide risk insights, increase the success rate, and save time and money during the location search for oil drilling. Seismic data analytics can also combine with historical data to determine oil levels in reservoirs.
Predictive maintenance: Big data collected from advanced machinery working offshore can help maintain assets and reduce failures. A good example is the Aegex10 Intrinsically Safe Tablet. This device includes a fully integrated Windows 10 platform and data-driven predictive maintenance tools to allow real-time communication and data management in remote and hazardous locations. This boosts efforts to monitor the state of assets in any location, including abandoned wells and mines.
Use of IoT in Oil and Gas
Internet of Things (IoT) technology monitors pipelines for leaks and damages in oil and gas extraction that could result in massive financial and environmental damage. IoT enables more efficient monitoring of pipes, pumps, and filters in the system with real-time data for proactive action to avoid leaks. Another great example is the
NexVU
tool from Aegex that allows users to deploy fugitive monitoring systems in dangerous oil and gas environments in less than an hour. The IoT-powered tool monitors leaks in pipelines and detects anomalies while deploying real-time facility and equipment data to enable managers to make data-backed decisions on actions to prevent the leaks. Other uses of IoT technology in the oil and gas industry include asset monitoring to determine performance. IoT-enabled sensors provide critical data on heavy machines installed in remote and perilous environments in offshore drilling. IoT-enabled sensors can also provide real-time data in oil refineries for greater insights on performance parameters. This ensures data is available around the clock for accurate measurements.
Automation in the Oil and Gas Industry
As the world embraces automation with open hands, the oil and gas industry is no different. Today, the industry uses robotics process automation (RPA) to automate the closing process, thus helping reduce closing time and the risk of human errors. RPA also automates the oil and gas supply chain processes to achieve efficient cycle times and realize overall efficiency. Industry leaders can also deploy drones and submersible bots to automate the inspection of remote and inaccessible areas in offshore drilling. Bots help increase worker safety and reduce costs in risky locations.
Augmented Reality and Virtual Reality
The oil and gas industry is leveraging virtual reality to train workers in disparate locations without visiting offshore plants. This provides a safer way to give practical training and present workers opportunities to apply their theoretical knowledge. On the other hand, augmented reality (AR) headsets can offer hands-free instructions and provide graphical information for increased maintenance efficiency. AR headsets can also provide live video access to technicians in faraway maintenance locations.
Blockchain in the Oil and Gas Industry
Blockchain technology helps secure oil and gas industry transactions. Through the technology, workers can complete digital transactions with greater transparency and security. It also helps increase transparency between business partners while instilling ethical practices in business transactions.
Aegex Technology Is Leading Oil and Gas Digital Transformation
Emerging oil and gas digitization trends make the sector safer, more efficient, and more profitable. Aegex digitization tools help transform operations and deliver increased value while enhancing operational efficiencies, reducing leaks, and improving bottom lines.
Contact us
today to learn more about Aegex digitization tools.