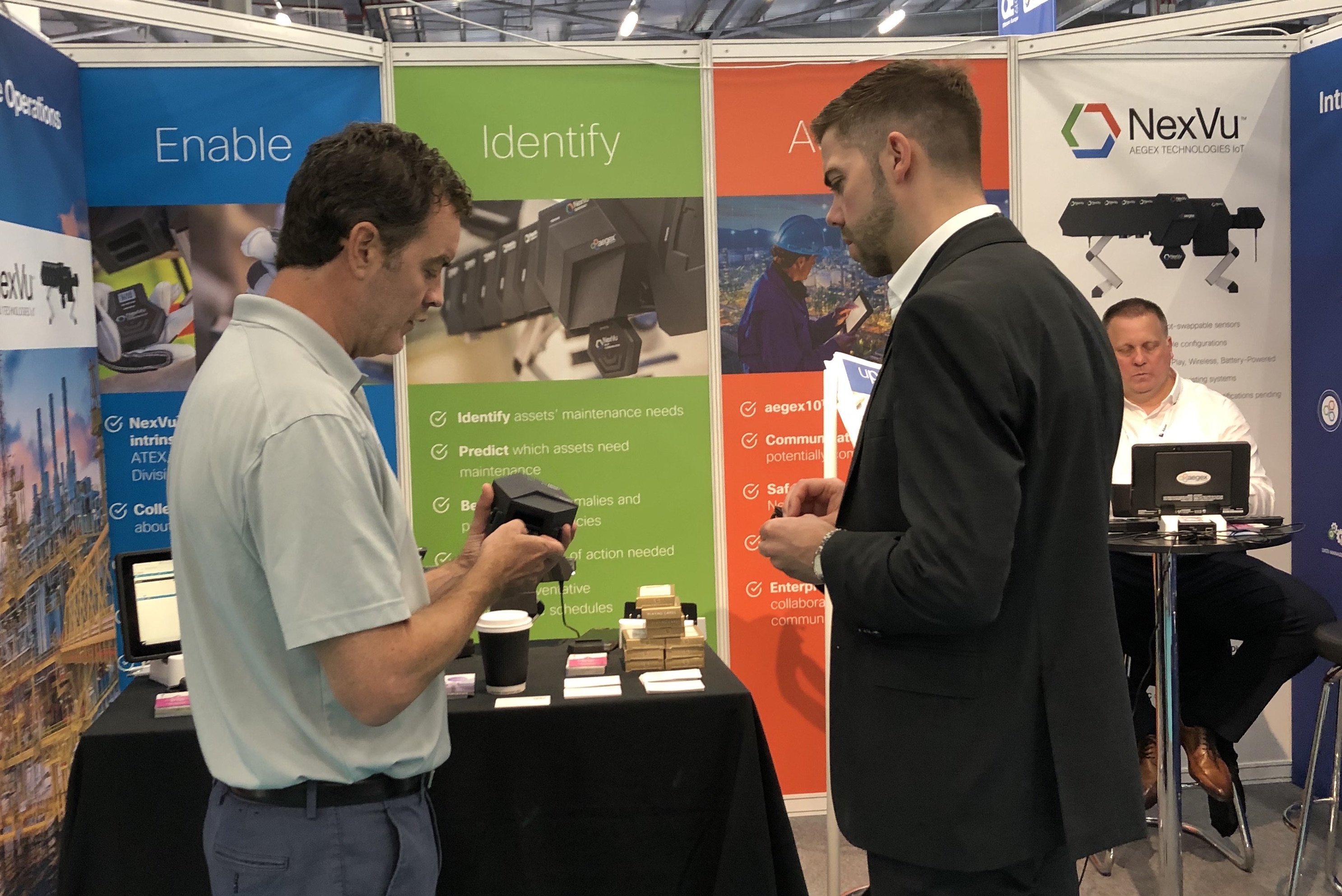 Offshore Europe 2019 Wrap-Up: Connecting the Dots for IoT in Hazardous Operations
September 2019

The recent Offshore Europe 2019 exhibition in Aberdeen, UK, was an opportunity for Aegex Technologies to showcase our NexVu IoT Solution, a modular, wireless, intrinsically safe sensor solution that can monitor more than 60,000 bespoke combinations of gases and ambient conditions in oil and gas operations to spot patterns and streamline processes.

At our stand during the show, customers and partners were enthusiastic about NexVu's modularity, flexibility and ease of set-up. They were asking how NexVu could monitor vibration, temperature, hazardous gases and other use cases in offshore operations, and what benefits that might have for reducing paperwork, increasing efficiency, or improving safety on their rigs. Our team was pleased to explain how NexVu collects myriad data on factors across Zone 1 that never before have been "connected", including capturing data from legacy sensors wirelessly. If various risk factors potentially line up they can predict such things as mechanical failure or dangerous circumstances. This nuanced insight into complex operations could help companies predict potential issues before they happen and plan preventative maintenance in order to reduce downtime. All of this information could even be shared among personnel in Zone 1 hazardous areas via partner software – like OSIsoft's PI System and plume analysis software - on aegex10 Intrinsically Safe Tablets, which our team also demonstrated at the exhibition.

It's about the ecosystem. At Aegex, we understand there is no "easy" button for IoT in Oil and Gas. We are pleased when we see this ecosystem in action, as we observed many other exhibitors – including partners, resellers and customers – who were exhibiting the aegex10 Intrinsically Safe Tablet either as a stand-alone communications device for Zone 1 operations or as part of a networked solution.

Visitors to the Aegex stand found that, unlike legacy sensors, NexVu sensors are connected to the cloud, enabling complex analytical evaluation that drives valuable insight for offshore. Aegex and partners are blazing new trails with networking and communications solutions for hard-to-reach locations. We had terrific discussions at Offshore Europe with partners like Tampnet whose narrowband LTE networks are helping remote operations set up cloud connectivity better than ever before to access and share timely information.

Aegex is helping "connect the dots" to build the right ecosystem for offshore customers to collect, analyze and disseminate data in hazardous locations. With cloud-connected solutions like NexVu, Aegex and our partners are assisting organizations to look for patterns and trends in their data and train their systems to do predictive analytics. Plus, we are helping personnel across hazardous operations communicate better via our certified aegex10 tablets and connected devices. We are excited about continuing our collaborative efforts to build this IoT ecosystem for oil and gas! See you at the next Offshore Europe in 2021!

Contact us to learn more about NexVu and all of our intrinsically safe solutions for hazardous area operations.