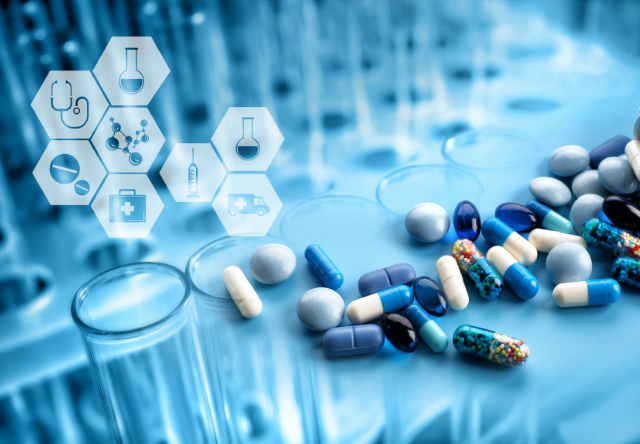 Defining Digitization in the Pharmaceutical Industry: A Supply Chain Discussion
Over the past several years, the pharmaceutical industry has deployed many Industry 4.0 strategies across a vast, complex, and sophisticated global supply chain. Then came the global Coronavirus pandemic and the rush to roll out viable vaccines. These events led to and continue to lay the foundation for the adoption of higher-level digitalization, especially when it comes to pharmaceutical supply chain improvements.


Industry 4.0 Links the Supply Chain
Digitalization is a part of Industry 4.0—also known as the
fourth industrial revolution
. Industry 4.0 represents a boost in automation and manufacturing, along with the use of data-driven "smart" plants. Industry 4.0 also facilitates
decentralized production
through integrated IT systems and the Internet of Things (IoT). Combining factory floor analytics with enterprise operational intelligence allows for more flexibility, a deeper understanding of inputs, outputs, inventory movement, and a better ability to meet customer demands. All of this offers benefits to a variety of industries.
Zeroing in on pharmaceutical companies,
Pfizer's
nod to Industry 4.0 and digitalization lay the groundwork for creating and implementing its portable, continuous, modular, and miniature plant—the PCMM. The first PCMM platform supported the research, development, and launch of an oncology drug, with digitalization resulting in a compression of the manufacturing and distribution processes. In the face of the initial successes, the global pharmaceutical company estimates that PCMM will manufacture up to 70% of its small molecule, solid oral dose portfolio over the next decade - which will result in shorter manufacturing times, faster technology transfers, and quicker delivery of products to the marketplace.
Digitalization and Supply Chain Improvement
In addition to research, development, and manufacturing,
digitalization can help improve
pharmaceutical supply chain processes in the following ways.
Advanced Analytics. 
Placement of sensors along points throughout the supply chain allows pharmaceutical companies to collect and analyze ongoing, essential data. This process boosts effective decision-making in forecast demand, supply chain disruptions, prescribing behavior, and potential treatment options. Aegex provides cutting-edge technology tools, such as the
aegex10™ Intrinsically Safe Tablet
and
NexVU IoT Solution
, designed to help pharmaceutical manufacturers and distributors collect essential data. This data generates insights that can boost drug efficacy and safety, target specific markets, and determine the right amount of inventory.
Efficient Stakeholder Integration.
The main supply chain challenge for global pharmaceutical companies involves connecting a vast array of supply chain stakeholders. Digitalization tools, such as cloud computing and artificial intelligence (AI), can create and successfully maintain integrated logistical networks. Stakeholders operating on different enterprise platforms can connect through a single, integrated link, such as Aegex's cloud computing solutions. The result is an improvement in collaboration and scalability, ranging from clinical trials to product sales.
Improved Manufacturing and Distribution Efficiencies.
Cloud and mobile technology, along with AI, can improve workflows and improve efficiencies in loading, replenishing, and troubleshooting. An example of such a tool is
AegexScan
, an industry-leading barcode scanning software available on the company's intrinsically safe tablets. The software captures scans and places data within user-defined applications, providing information that ultimately helps products move seamlessly along the supply chain and to the right target audiences.
From Crisis Mode to Ongoing Functionality
The pharmaceutical industry's response to the COVID-19 pandemic demonstrates that digitalization can improve development, activities, and cooperation along the industry's supply chain. The result has been highly efficient collaboration, which leads to compressed research, manufacturing, and distribution times.
Beyond the current situation,
McKinsey
, among others, believes that digitalization will improve in areas such as tailored, 24/7 treatment, better connections between manufacturers, physicians, and patients, and increased, targeted analytics – expanding both the drug pipelines and their commercial values.
Continued improvement through digitalization tools such as intelligent warehousing and distribution and cloud-based information architecture will  help the pharmaceutical industry improve its procedures – ensuring that treatment and medications are available to the people who need them promptly. To learn more about Aegex Technology's digitalization tools and how they can help improve your supply chain process,
contact us here
.