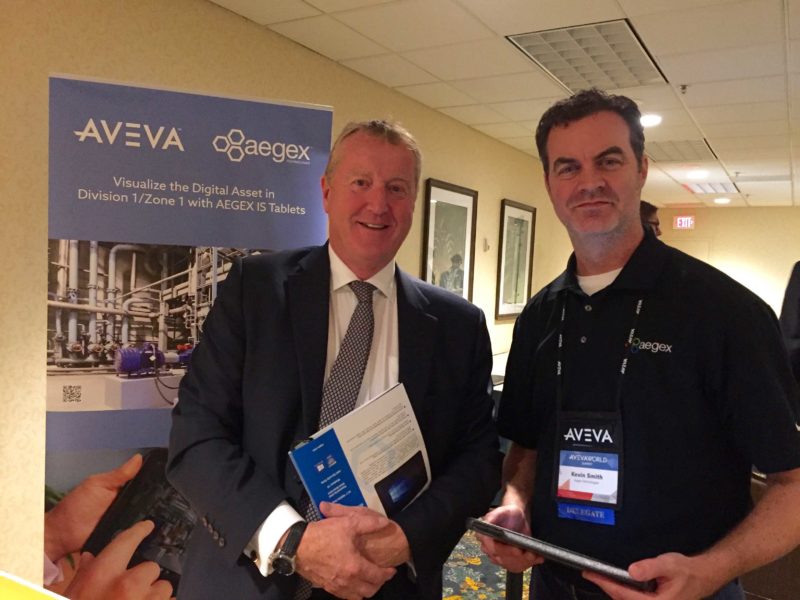 CONNECTING AT AVEVA WORLD SUMMIT
Demonstrating the Aegex10 Intrinsically Safe Tablet at the
AVEVA World 2016
conference in New Orleans this week helped to solidify Aegex Technologies'
partnership
with AVEVA Group plc. AVEVA is a global provider of software solutions for plant, marine and building/infrastructure industries. Aegex was invited to exhibit at the flagship world summit to demonstrate our tablet's advantages for AVEVA customers and partners.
Cloud connectivity everywhere?
During the summit,
AVEVA announced
its new cloud services platform,
AVEVA Connect
, that enables the delivery of AVEVA applications via the cloud. With cloud access to AVEVA's information management and Digital Asset software, customers can theoretically use AVEVA applications anywhere.Adding the capability to take AVEVA applications into
explosive hazardous environments
is the next step to making AVEVA Connect an even more pervasive technology. Typical computing devices that could normally be used to access AVEVA software via the cloud are not permitted in
Zone 1
or
Class I Division 1
hazardous areas, where combustible materials are present during normal operations, because they could cause a spark that could ignite an explosion. So, what happens when a plant inspector, for example, wants to use AVEVA Net to look up status reports of a particular valve while he is standing inside an oil refinery? Or view 3D visualizations of the facility on AVEVA's LFM NetView to locate that valve while he is onsite? He must have a mobile device that is certified intrinsically safe for Zone 1 or Class I Division 1 to utilize AVEVA Connect while in these hazardous locations.
This is where Aegex comes in.
View
Connecting Anywhere
With the Aegex10 Intrinsically Safe Tablet, users can access AVEVA Connect from anywhere, even in the most hazardous locations. With the Aegex tablet, the inspector can walk into the Zone 1 or CI D1 hazardous area, connect the tablet via Wi-Fi or 4G LTE to AVEVA Connect, use NetView 3D visualizations to locate the valve in question, pull up the documentation he is seeking with AVEVA Net, and fix the valve on the spot.None of this would have been possible from inside the Zone 1 / CI D1 hazardous area without the Aegex10 IS Tablet.This realization underscores the importance of Aegex's partnership with AVEVA for bringing their fantastic cloud-based applications directly into the locations where they are most needed – hazardous areas.Aegex is looking forward to working with AVEVA to provide solutions for hazardous industries that help our customers and theirs improve safety, efficiency and productivity.