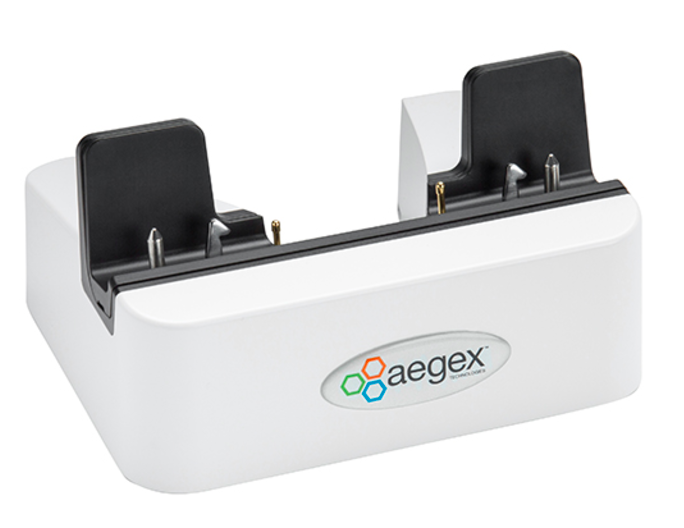 Charging Stations for Hazardous Industry Mobile Devices – Quick, Easy and Safe!
Charging Stations for Hazardous Industry Mobile Devices – Quick, Easy and Safe!
Today's hazardous industrial operations, like oil & gas projects, chemical manufacturing, and other industrial settings where extremely explosive atmospheres exist, require access to real-time data, and their personnel must respond to alerts and information as quickly as possible while on the job. Thus, they need a mobile device that can recharge quickly to avoid interrupting workflow and operations.Luckily, the
Aegex10 Intrinsically Safe Tablet
has a
Charging Station
that can recharge the tablet in 2 hours. When safely in a non-hazardous area, you drop the tablet into the Charging Station, and after about 2 hours when the green light indicator is lit, you simply take it out, with no release button necessary. Then it is ready to go back to work in Zone 1 or Division 1 hazardous areas, where combustible materials are present during operation.The Aegex10 IS is safe to use in these highly explosive environments because this Windows 10 tablet is globally certified intrinsically safe, so it is incapable of causing an explosion. Remember, however, that the Charging Station must never be used inside a hazardous environment. Aegex tablets should be charged outside of hazardous areas.The
Charging Station
is the quickest way to charge the Aegex10 IS. But, of course, the tablet may also be charged in any electrical socket outside of hazardous areas with its power cord. The
power cord
has a universal USB connector and comes with adaptors for US, UK and European electrical outlets. The power cord can be stored in temperatures ranging from -40C to +85C and can operate in 0C to +40C.The power cord is 46mm x 33mm x 75mm and by itself weighs 77 grams, weighing 125 grams total with all three adaptors. It can be used in environments with 90% RH max humidity, is double-insulated with low-leakage current, is Energy Star 2.0 and CEC Level V Efficiency Compliant. It has safety approvals for UL, CCC, C-tick, SAA, KC, PSE, GOST-R, CE and CB, and comes with a 1-year limited warranty.Whether you recharge with the Aegex Charging Station or the Aegex Power Cord, the Aegex10 IS Tablet is the safest device to bring into Zone 1 and Division 1 hazardous environments. With the Aegex10 IS, personnel can connect seamlessly to the Cloud for real-time data and communications inside of the most hazardous industrial operations worldwide.See more about other handy Aegex accessories
here
.