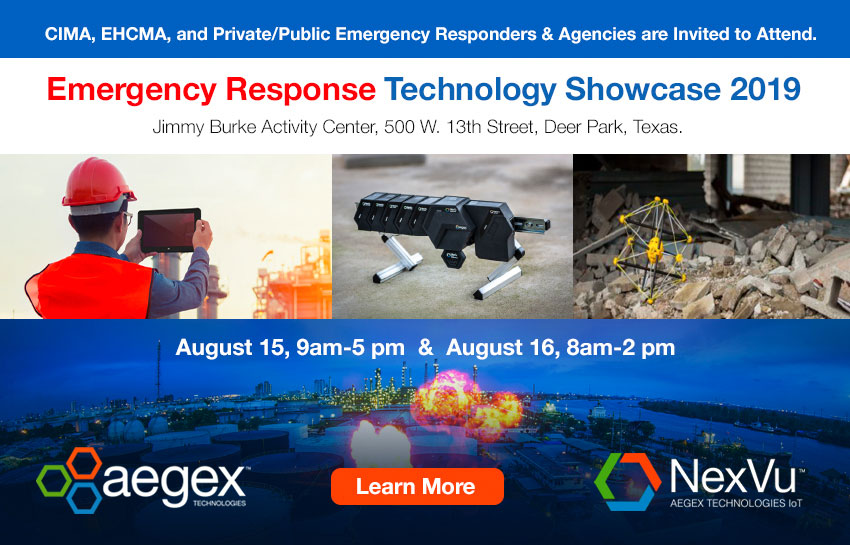 Advice from CIMA: Attend Emergency Response Technology Showcase 2019
On 15-16 August 2019 in Deer Park, Texas near Houston, multiple cutting-edge technology developers will come together to showcase their solutions that can help save lives during oil and gas industry emergencies. Public and private responder organizations along with manufacturers from across the U.S. are invited to the Emergency Response Technology Showcase 2019 to see live tech demonstrations and learn more about the latest IoT devices, drones, and other solutions that can assist in emergency detection, response and prevention.

Aegex talked with Justin Cox, member of the Channel Industries Mutual Aid (CIMA) organization that responds to Gulf region industrial emergencies, about his reasons for supporting the event:

Q & A with Justin Cox:
Q) Why are CIMA members interested in attending the event?  
A) I believe with the development of new technology to assist in various aspects of our responsibilities is what drives emergency responders to participate in the event. 

Q) What types of technologies are CIMA hoping to see demonstrated? 
A) Drones, Communications, and Asset tracking opportunities for large scale incidents.

Q) Why should other first responders/emergency response agencies attend? 
  A) To get out and see the technology that is being created to assist our efforts.  Get hands on opportunities with equipment and technology that could influence how we respond.

Q) Why should oil and gas companies attend? 
  A) Same as emergency response agencies, the only difference would be the technology generated at this event could assist in efforts to become more efficient with day-to-day tasks, as well as guide to new endeavors.

Q) Is this an event only for the Gulf channel region/industries, or do you think it has broader appeal?  
A) I personally believe it has a much broader appeal.  The technology demonstrated here, specifically drones and such could be used in law enforcement, hazmat teams, rescue teams, and all emergency response divisions world-wide.

Q) What do you hope attendees will take away from the Showcase? 
A) Understanding we have a multitude of tools at the tips of our fingers ready to be put into action.  Knowing and understanding there are companies out there with the passion and desire to develop and implement technology for emergency responders no matter the need.

Q) I understand you are working on an air modeling project that will monitor, model and mitigate chemical incidents in real time. Can you please describe this?  
A) It is essentially boots on the ground during chemical spills or leaks.  Currently manpower is utilized greatly to go out and collect sampling, along with un-manned devices that transmit data remotely.  With all data points collected, modeling is projected and created via programs. 

Q) Are you using the air modeling app on the aegex10 Intrinsically Safe Tablet?  
A) Yes, the aegex10 tablet has allowed me to be productive while capturing data and trends.  Currently we use a 3rd party application for modeling, which works great on the tablet. 

Q) How does being able to take the air modeling app immediately into the field on the Aegex tablet to help you assess hazardous situations?  
A) It allows more eyes and brains to be actively engaged in the changing environment.  We typically have someone dedicated in a command vehicle or Emergency Operations Center watching this for us, but there is something unique about having it in the field and seeing it right in front of you when making a tactical decision in which the current or projection change could alter or promote that decision.  
Q) What do you measure / learn from that? 
A) Time, less radio or phone traffic, ability to focus limited manpower elsewhere if needed.  
Q) How does it help improve the safety of the workers, your team, the public?  
A) Again, with the ability to see with your own eyes in the field the data, making tactical decisions could become more planned out. 

  Q) What else might you do with the Aegex tablet onsite at a scene? 
A) Track many pieces of emergency response apparatus, create the incident and account for all divisions/groups with their assigned personnel and equipment, use apps to produce SDS's, the list could go on. 
Q) Collaboration? Any other Window applications that you use on the tablet? 
A) Wiser, SaferOne, Emergency Response Guidebook 

Be sure to register for the Emergency Response Technology Showcase 2019 being held August 15-16 to learn more!