Picture This: An IS Tablet with a Camera is Better than a Stand-Alone IS Camera
By Laszlo Molnar, Manufacturing Manager at Aegex TechnologiesPicture this: A maintenance manager at an oil refinery is making his weekly rounds to check for any maintenance issues that may need service or repair. His main concern is equipment inside a highly explosive zone of the facility – a C1D1 (or ATEX/IECEx Zone 1) hazardous area. He notices a certain valve in this area looks faulty. He touches it and realizes it is loose.To document and report this, he can do one of three things:
Write down some notes on a paper notepad with a pen to later take to his office and report to a repairman, then eventually enter the incident into a (hardcopy or digital) log before the end of the monthly reporting period
Take a picture and video with an intrinsically safe (IS) camera, then later download the images onto his computer and email those to a repairman, and eventually log the incident on official (digital?) records
Take a picture and video on an intrinsically safe (IS) tablet, use the IS tablet to immediately email or otherwise wirelessly transmit the images to the proper repair personnel, and instantaneously log the incident into an online record.
Which is the most efficient method? Clearly, the third option that allows the images to be transmitted immediately to the repairman and logs the report in real-time. But both the second and third options are suitable for capturing actual images of the problem. Which is the best solution?Intrinsically safe cameras are the only way to capture digital imagery in the most hazardous areas of industrial locations because only IS cameras are incapable of producing a spark and, thus, incapable of triggering a fire or explosion. IS cameras are available as stand-alone cameras or are included in certain purpose-built mobile devices, such as IS tablets.Some benefits of stand-alone IS cameras include:
Possibly higher resolution
Macro function
Optical zoom
Faster shots for capturing images of moving objects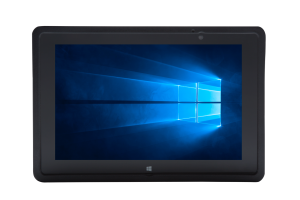 However, an IS camera in an IS tablet (specifically, the IS cameras embedded in the
Aegex10 Intrinsically Safe Tablet
) has distinct advantages over a stand-alone IS camera:
Aegex10 IS tablets have global certification by ATEX (Europe), IECEx (International) and SGS (US/Canada). Most IS cameras do not.
Aegex10 IS tablets have two cameras, front and rear.
Aegex10 IS tablets are IP65 certified, meaning they are protected against high levels of water or dust ingress. In comparison, most IS cameras have IP54 or less, which means less protection from water and dust ingress.
Large image display size on a 10.1-inch tablet provides greater detail when viewing images.
Aegex10 IS tablet's memory capacity is over 50GB + microSD 64GB+.
Aegex10 IS tablet has a 33Wh battery.
The Aegex10 IS tablet's embedded IS camera is equipped with flash.
USB 3.0 is available when the Aegex10 IS tablet is docked in a docking station (outside of a hazardous location).
BT4.0 or 2bands (2.4GHz, 5GHz) Wi-Fi, or LTE can be used on an Aegex10 IS tablet inside a HazLoc area.
Ethernet (RJ45) connector and HDMI are available via the Aegex10 IS tablet's docking station, so users can upload images to a server or view them on a monitor/TV.
Aegex10 IS tablets have an audio connector for a headset (or BT4.0 as an option for BT audio device).
NFC (for identification, etc.) is available on an Aegex10 IS tablet.
The Aegex10 IS tablet is not calibrated and can be used as an inclinometer for indication purposes.
With the Aegex10 IS tablet's IS camera, a user can take a photo and send by email, or save it directly into a database using a proprietary application (if available).
Users can discuss photos via a Skype video call using the front camera of the Aegex10 IS tablet.
The Aegex10 IS tablet can upload photos to the Internet or an FTP.
Users can add GPS to images for a location stamp on the Aegex10 IS tablet.
A compass on the Aegex10 IS tablet can guide a worker in a hazardous area.
The Aegex10 IS tablet's capacitive touchscreen allows for enlargement of photos.
Aegex10 IS tablet users can immediately create reports because they have Microsoft Windows 10.
New apps and software can be installed on Aegex10 IS tablets.
Future barcode readers on the Aegex10 IS tablet, or apps that can use the tablet's IS camera as a reader input, will read 2D barcodes.
The weight of an Aegex10 IS tablet (2.16 lbs / 980 grams) is nearly the same as for a quality, stand-alone IS camera.
The price of an Aegex10 IS tablet is almost the same as a stand-alone IS camera.
So, in general, the IS camera in an Aegex10 IS tablet provides a better price-to-value ratio for hazardous industry customers.