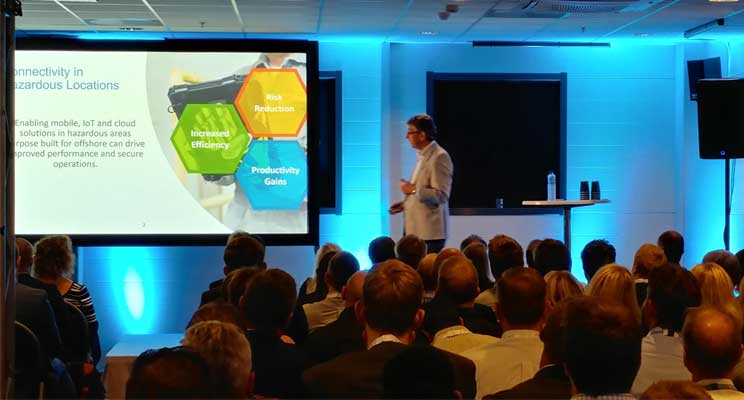 ONS 2018 Takeaway: The Digital Transformation is Here and Happening in the North Sea
by Thomas P. Ventulett, CEO, Aegex

Leading a company such as Aegex has afforded me the opportunity to work around the world with some amazing teammates and remarkable customers.  I never expected it would give me the chance to see technology history repeat itself with another transformation. Building tablet computers for the offshore industry has granted us a unique vantage point to see a digital transformation from a front row seat!

When the IBM XT Personal Computer hit the enterprise market in 1983, the way business was conducted forever changed. Now, in a world of IoT devices, cloud computing, and artificial intelligence, it is hard to think of a time when we were not all pervasively connected with a screen always within arm's reach.  However, all of these advancements, from Windows, to the Internet, to pervasive wireless connectivity, have essentially skipped over the offshore oil & gas, chemical, and other industries with hazardous combustible environments because typical devices could risk igniting an explosion.

Now, with products such as the aegex10 Intrinsically Safe Tablet that are designed to not cause a spark, these industries are experiencing for the first time the power of technology to drive productivity and efficiency and remarkably improve safety and security. See my presentation from the ONS 2018 Stavanger, Norway, conference on how IoT technologies are improving security for hazardous operations.

The ONS 2018 conference included entire speaking tracks on how companies such as Equinor, Aker BP and many others have jumped into opportunities stemming from the availability of intrinsically safe technology and are reaping benefits within months of deploying certified devices. Over the last 24 months, we have seen companies move from the position of (and this is an actual quote), "What could a field worker do with a tablet computer?" to now asking, "What else can we connect?"

To help our Aegex customers along their digital transformation journey, we are always looking for great application and service innovation or thought leading experts in their respective fields. This year at ONS, companies such as FutureOn, IPT Global, Visco, Cybernetica, Cegal and many others were demonstrating remarkable solutions that will deliver far greater capabilities over legacy options.

It is companies like these that we have now aggregated, and every month Aegex will be adding to our network of partner solutions.  We have tested and vetted with customers countless applications to compile an online resource that suggests solutions to resolve the unique problems faced by our target industries. The beginning of this effort can be found at the Aegex Solution Network page on our website.

Join us as we help lead the digital revolution occurring in established industries!