Benefits of Windows 10 for Enterprise Mobility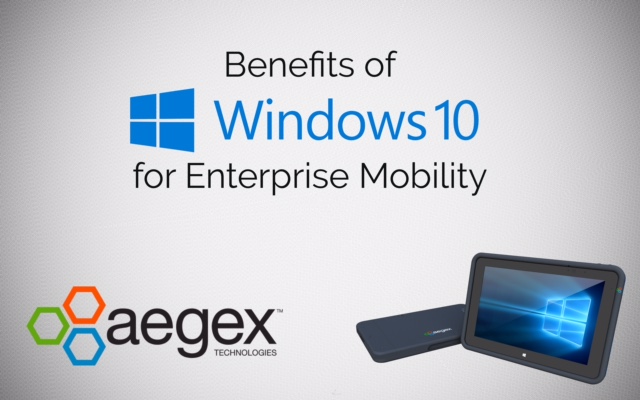 ---
<< Previous
Next >>
---
By Jason Deavin, COO, Aegex Technologies LLCWindows 10 offers more features for enterprise mobility customers than ever before, making it the best choice for use in hazardous location operations. The following are features that appeal to workforces in the oil and gas, chemical, pharmaceutical, public safety, utilities and other industries with hazardous locations, where only certified and highly customized mobile devices are permitted:
Interoperability across devices: All Microsoft tablets, laptops and desktops support Windows 10, making it universally deployable for an entire workforce. For personnel in hazardous locations, where traditional mobile devices are not permitted because of risk of spark, intrinsically safe devices can run Windows 10, bringing the power of the latest enterprise applications to those restricted areas for real-time connectivity. Teammates throughout the organization who are working in non-restricted zones can use the same Windows functionality to communicate instantaneously with users in HazLoc areas, making enterprise-wide collaboration simple.
Compatibility with Existing Hardware: A Windows 10 mobility strategy means apps share the same design on mobile devices as on desktops. Continuum is a feature in Windows 10 that allows users to switch between tablet and laptop mode on the same device, offering HazLoc personnel the ability to bring their intrinsically safe handheld or touchscreen devices into an office or vehicle to use like a laptop. Universal Windows Apps: Microsoft's Universal Windows Platform enables an app's user interface to adjust to particular device capabilities and respond to a user's interactions with the device. This allows Microsoft programs like Word, Excel and PowerPoint to seamlessly transition from touchscreen mode to keyboard and mouse mode. And Microsoft Office, the preferred application suite among many enterprises, functions optimally on Windows.
Voice Assistance: The Windows 10 digital, voice-activated assistant, Cortana, can assist workers in hazardous environments to save time and effort by freeing up one or both hands, rather than solely relying on a stylus pen.
Apportal: This Windows 10 feature locates all enterprise applications in a single nested folder structure from the Start screen. With Apportal, hazardous location employees do not have to find and download apps from the Windows Store or the Internet; they can access all required apps with a single touch.
Simple to Develop Mobile Apps: Enterprises running Windows 10 can use their existing user controls with mobile applications. Plus, developing new mobile apps that connect to platforms such as Microsoft Azure is made easier using a Windows platform. For hazardous industries, specialized apps that integrate with existing IoT will benefit.
Cloud-based Directory: The Azure Active Directory in Windows 10 provides single sign-in access to applications such as Office365 and Salesforce, simplifying and controlling access. Easy Transition of Existing Apps: Microsoft helps transition existing apps to Windows 10 without much effort or change, assisting developers in critical industries to make adaptations for specialized customization.
Windows 10 is a logical choice for critical industries with hazardous locations. With the right intrinsically safe devices that are certified for volatile environments, Windows 10 ensures uniformity and real-time connectivity across an entire hazardous location operation.