Aegex Technologies Announces Certification for Russia and Eurasian Countries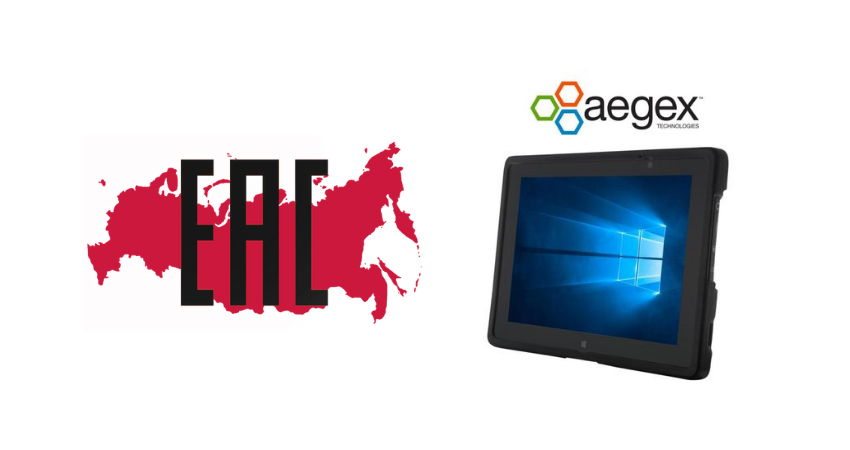 ---
<< Previous
Next >>
---
Atlanta, Georgia, March 11, 2020 — Aegex Technologies, the industry leader for intrinsically safe sensors and tablets designed for the world's most explosive industrial environments, has announced that its aegex10 Intrinsically Safe Tablet is now certified in Russia, Belarus, Armenia, Kazakhstan and Kyrgyzstan.

The aegex10 tablet has received the Eurasian Conformity mark (EAC), one of two new certification documents introduced with recent technical regulations reform (TR CU) in Russia, Belarus, Armenia, Kazakhstan and Kyrgyzstan. This EAC Certificate demonstrates that Aegex tablets comply with the technical requirements of the Eurasian Economic Union (EAEU) and are now regulated and certified for use in these countries.

Aegex uses intrinsic safety design to ensure safe operation of its electronic equipment in potentially combustible areas of operations. By limiting the production of electrical and thermal energy, Aegex products are incapable of explosion or ignition.

The Aegex tablet is now certified in 59 countries throughout North America, Europe and Asia. It is safe for use in Class I Division 1 hazardous areas, where flammable gases or vapors are present in the air in quantities sufficient to produce explosive or ignitable mixtures, and in ATEX/IECEx Zone 1 hazardous areas, where ignitable concentrations of flammable gases, vapors, or liquids are likely to exist under normal operating conditions.

Numerous hazardous industrial operations including oil and gas, chemical, pharmaceutical, and process manufacturing prohibit non-certified mobile devices due to anti-explosion regulations. The gradual adoption of technology is improving performance, efficiency, and productivity. The aegex10 tablet helps industries meet compliance goals, increase productivity and improve overall performance.

To learn more, contact Aegex Technologies, LLC at www.aegex.com.

About Aegex Technologies, LLC
Aegex Technologies is a global provider of certified intrinsically safe solutions that connect people, assets and data in industries with hazardous locations. By offering real-time collaboration and data insight about operations, Aegex enables companies to make intelligent, data-driven decisions that help transform the way they operate, improving efficiency, safety and productivity. Aegex solutions, including mobile communications devices and IoT sensors and platform, are certified for use in the world's most hazardous areas. Together with our partner ecosystem applications, they bring actionable insights to critical environments such as oil & gas, chemical, pharmaceutical, energy/utilities, aviation and emergency response. For more information, please visit www.aegex.com.