Mobility Solution to Save Lives and Assets in Hazardous Locations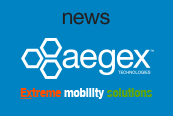 ---
<< Previous
Next >>
---
Explosion-Proof Tablets + Customizable Apps Offer Enterprise-Wide Connectivity
ATLANTA, GA—(Marketwired - July 21, 2015) - A new mobility solutions company, Aegex Technologies, LLC, aims to connect the largest underserved market in the wireless telecom industry and, in the process, save hundreds of lives and billions of dollars annually by averting explosions at industrial facilities.1
Aegex will provide mobile communications and IoT solutions for the world's most volatile hazardous location operations in the Oil & Gas, Petrochemical, Public Safety and Utilities industries. The company's Zone 1/CI D1 explosion-proof tablets and industry-specific applications allow for real-time data transmission and collaboration in the most explosive environments.
"We will not only protect billions of dollars of assets in some of the world's largest industries from the risk of explosion, we will also save hundreds, maybe thousands, of lives with Aegex technology," said Keith Cowan, Aegex's board chairman and former president of strategic planning and corporate initiatives at Sprint Nextel Corp.
Personnel working in the most explosive zones of hazardous locations have been excluded from the mobility revolution because mobile devices present a risk of explosion. Aegex Technologies will offer complete mobile communications solutions with a single platform that is safe and customizable for an entire hazardous industry workforce, no matter the specific job, zone or global location.
"Aegex will provide the ability for real-time communication and data capture to the 'Forgotten 15'—the 15 percent of the workforce in hazardous industries who have not been able to safely use mobile devices," Mr. Cowan said. "This unified platform solution will undoubtedly contribute to increased enterprise productivity and occupational safety for companies managing some of the world's most dangerous yet most profitable operations."
Aegex's intrinsically safe ATEX IECEx Zone1/CI D1-certified tablets run the latest Windows operating system and can be transformed for specific uses with a variety of applications and accessories. Aegex's unified platform facilitates operation-wide integration and collaboration with its adaptable, networked solution for hazardous locations worldwide.
"Aegex" is a word based on the mythical Aegis shield that protected gods and mortals in battle, and "Ex" is the international symbol for Intrinsically Safe. Aegex Solutions are built around the concept of protecting customers in hazardous duty, providing software that helps enterprises in hazardous locations to better and more safely manage their people and assets.
About Aegex Technologies, LLC
Aegex Technologies is a global telecommunications technology provider specializing in intrinsically safe mobility solutions for hazardous industries, including oil & gas, petrochemical, public safety and utilities markets. Aegex delivers customizable, synchronizable communications solutions to meet the mobility needs of all personnel in all zones of hazardous locations.
For more information:
[email protected]
www.aegex.com
LinkedIn
Twitter
Facebook
Google+
Instagram
1 https://osha.gov/dep/fatcat/fy15_federal-state_summaries.pdf : 76 fatalities or catastrophes reported to OSHA in the U.S., Feb. 2014-May 2015, due to explosion or particulate leak
Image Available: http://marketwire.com/library/MwGo/2015/7/20/11G048161/Images/Aegex10ISTablet-384294861580.jpg
CONTACT INFORMATION
Leigh M. Villegas
Aegex Technologies, LLC
+1 470.242.4000 ext 115
[email protected]